Features
Newest version (2023.11)
True convection heating
Quartz glass heating chamber (0.2 to 0.3 g)
Two heating modes: session and on-demand
Heats up in 20 seconds
Large temperature range (100°C to 220°C)
Colourful OLED display
Durable anodised aluminium body
Swappable 3200 mAh 18650 battery
Who is the XLux Roffu for?
Discover nuanced flavours from your herbs with the XLux Roffu's specialised convection heating. The convection heat gently warms herbs with hot air to preserve purity and maximise taste.
The Roffu offers customisation for any vaping preference with its session and on-demand heating modes. The session mode produces heat in continuous intervals of 3 to 6 minutes for relaxed enjoyment. The on-demand mode enables quick 1-2 draws when you have less time. Both modes reach vaping temperature in around 20 seconds.
While specialised for flavourful dry herb use, the Roffu prioritises portability and affordability. At 166 g, it strikes an ideal balance of durable yet lightweight construction. The Roffu is an economical option for any user who values precise convection heating in a portable vaporizer.
Focused on flavour
Experience pure, flavourful vapour with Roffu's quartz glass heating chamber. This chamber comfortably fits 0.2 to 0.3 grams of herbs for extended vaping sessions without constant refills.
The Roffu utilises convection heating which heats your herbs through hot air rather than direct contact. This produces a clean, pure vapour that lets the natural flavours of your herbs shine through.
With a wide temperature range from 100°C to 220°C, you can find the ideal heat setting to fully extract your herbs.
The combination of the spacious quartz chamber, precise convection heating, and customisable temperature control mean you can enjoy the maximum out of your herbs.
Session and on-demand mode
The XLux Roffu offers great flexibility with its two distinct heating modes:
The session mode is designed for relaxation - it continuously heats the chamber to provide vapour over a 3-6 minute interval.
The on-demand mode upgrades the Roffu's portability and discretion - it heats up instantly when you press the button for quick draws without wasting herbs.
Inhale the difference
Savour the true flavour of your herbs with the XLux Roffu's magnetic raised mouthpiece made of zirconia.
The mouthpiece ensures a pure taste, while the innovative cooling pathway guarantees a consistently cool vapour.
Comfortable to hold and use
With just 2.5 cm in width, the Roffu's pocket-sized design allows easy handling and portability.
Its colourful 0.96-inch OLED display offers real-time feedback, while the haptic feedback and intuitive controls make temperature adjustments quick and easy.
Whether you're a seasoned vape user or just starting out, the Roffu ensures a hassle-free experience. As a bonus, there is also a "Puff Data" menu selection, where you can see statistics about your vaping habits.
Optimised for performance
The XLux Roffu houses a high-capacity 3200 mAh 18650 battery for extended vaping times between charges. It recharges conveniently via USB-C connectivity.
We recommend purchasing extra Molicel M35A 3500 mAh batteries and the Xtar X2 Charger for endless vaping sessions.
High-quality materials
With its anodised aluminium construction weighing 166 g, the Roffu delivers both slick aesthetics and lasting durability.
It's designed to withstand the rigours of daily use, ensuring that you have a device that's not only lightweight and portable but also robust and long-lasting.
How to use the XLux Roffu
Here are the basic steps to get started with the XLux Roffu.
Lift off the mouthpiece.
Insert finely ground herbs into the chamber.
Secure the mouthpiece back on.
Click the power button five times to turn on.
Choose your temperature.
Allow the Roffu to reach the set temperature (around 20 seconds).
Take slow, steady inhales.
Enjoy the vapour!
Turn the Roffu off by pressing the button five times.
Use the built-in scraping tool for easy chamber cleaning and maintenance.
To activate the on-demand mode, simply hold both the up and down button for two seconds. Once on-demand mode is activated the Roffu will only heat when you are pressing the power button.
Safety first
With the XLux Roffu, safety is always the priority.
Its vibration feedback alerts you to changes, while the built-in session timer ensures the device automatically shuts off after a set duration, conserving energy and enhancing safety.
Recommended accessories
Dosing Capsules: These capsules make vaping with the XLux Roffu even easier. Pre-pack them for quick sessions and enjoy the added benefit of keeping your oven cleaner. Less direct herb contact means less residue and fewer clean-ups.
Molicel M35A - 3500 mAh 18650 Battery: With this high-capacity battery (300 mAh more than the Roffu original battery), you can vape longer between charges.
Plus, the convenience of swapping out batteries ensures you never run out of power, even during extended sessions or travel.
Xtar X2 - Battery Charger: This external charger can charge up to four batteries simultaneously, ensuring you always have a fresh set ready. Using an external charger is recommended as it can help extend the longevity of your batteries.
Metal Chamber: Take advantage of Roffu's heating chamber interchangeability and swap to the Metal Chamber for quicker heating and denser vapour.
Water Pipe Adapter: Make your vape experience even better by connecting your Roffu to a water pipe. It helps cool down the vapour, making each draw smoother and more enjoyable.
Silicone Cover: Protect your Roffu with this snug-fitting cover. It not only shields your Roffu from accidental drops but also adds a stylish touch to your device.
Cleaning the XLux Roffu
For a thorough deep clean of your XLux Roffu, follow these simple steps:
Brush residues from the heating chamber, then soak in alcohol for 15 minutes and wipe.
Swab the inside of the mouthpiece and follow with a wet wipe.
Wash the airflow box's silicon with soap and water. Soak its ceramic in alcohol for 15 minutes and wipe.
After cleaning, run the device at maximum temperature for 2 minutes to ensure any remaining residues are evaporated.
Warranty
All XLux Roffu by XVape vaporizers sold by MagicVaporizers, an authorised distributor of XVape, are completely authentic and backed by a 1-year warranty on the device and a 6-month warranty on the battery.
Kasutusjuhend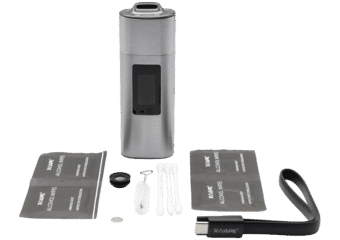 Karbis
XLux Roffu vaporizer
Charging cable
Cleaning brush
Screens (2)
O-rings (2)
Cotton swabs (3)
Alcohol wipes (2)
Instruction manual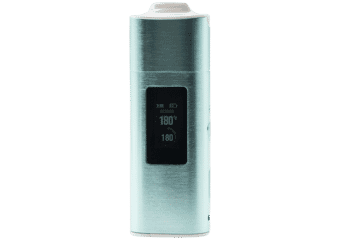 Spetsifikatsioon
Lisainfo

| | |
| --- | --- |
| Suurus: | 4.0 × 2.5 × 11.5 cm |
| Kaal: | 166 g |
| Küttekeha: | Convection |
| Kütteaeg: | 20 seconds |
| Jõuallikas: | Battery (3200 mAh) |
| Temperatuur: | 100°C to 220°C |
| Tootja: | XMax / XVape |
| Garantii: | 1 year |
| Päritolumaa: | China |
XMax Starry V4

Fast heat up time (30 seconds)
Adjustable airflow
Precise temperature control (100°C to 240°C)

XMax V3 Pro

Soojenemiseks 15 sekundit
Puhas konvektsioon kuumutamine
100°C kuni 220°C temperatuuri vahemik

XVape Fog Pro

Kuumeneb 180°C kõigest 15 sekundiga
Puhtalt konvektsioon kuumutamine
Vahetatav 3200 mAh aku
Kirjuta enda tagasiside XLux Roffu by XVape