Features
Latest version (2023.11)
Fast heat up time (30 seconds)
Adjustable airflow
Precise temperature control (100°C to 240°C)
Magnetic mouthpiece
Rotating display
Session timers
Replaceable battery
USB-C charging
Who is the XMax Starry V4 for?
The XMax Starry V4 portable vaporizer delivers quality vapour in a compact, pocketable package at an affordable price point.
The adjustable airflow and precise temperature control let you customise sessions to suit your needs. The replaceable battery ensures unlimited vaping time as long as you have extra batteries to use.
Overall, the Starry V4 is an excellent option for casual users who value simplicity over advanced features. Its easy operation and maintenance make it a great choice for beginner or budget-minded vapers looking for a portable solution.
XMax Starry V3 vs XMax Starry V4
While the core vaporization performance remains similar, the Starry V4 showcases several upgrades over the previous V3 model:
USB-C for faster charging
Additional session length options - 4, 6 or 10 minutes
Included stainless steel dosing capsule for easy refills
More reliable battery compartment and oven lid
Smoother, more sophisticated finish
Easier to disassemble and clean vapour path
Heavier overall body - 137 g vs 120 g for improved durability
The most noticeable difference is the look and feel. The V4 has a more premium build quality with its smooth matte finish. It feels more high-end yet retains the pocketable portability of the V3.
Fast Heat Up
The Starry V4 utilizes conduction heating and will heat up in around 30 seconds. The haptic feedback vibrates when it reaches your set temperature so you know when it's ready to use.
Adjustable Airflow
You can customise each breath of vapour to your liking thanks to the Starry V4's adjustable airflow slider. Close it up for tighter, more flavourful draws or open it for cooler vapour. Find your perfect airflow setting based on personal preference.
Intuitive Controls
Simple and intuitive controls make the Starry V4 easy to use right out of the box. Triple-click the power button to turn it on or off. Use the up and down buttons to choose your ideal temperature between 100°C and 240°C.
Starry will remember your last used settings and automatically start heating to that temperature when you turn it on.
Durable Mouthpiece
The magnetic mouthpiece of the XMax V4 Starry cools the vapour so it's smoother and more comfortable to consume. As it's made from durable, non-reactive zirconia, the vapour will pass through pure and flavourful.
OLED Display
The bright OLED screen displays important session info like set temperature, battery level, and timer. You can flip the display 180° with the push of a button for easy viewing from any angle.
Rapid USB-C Charging
When battery life gets low, the Starry V4 charges rapidly via USB-C. Plug it in and you'll be back up and vaping in no time. A full charge takes around 90 minutes.
Replaceable Battery
Don't want to wait? As Starry V4 comes with a replaceable battery, you'll never run out of power as long as you have a spare battery available. The easy-access battery door makes swapping batteries quick and convenient.
Recommended spare battery: Molicel M35A (3500 mAh)
Recommended spare battery charger: Xtar X2 - Battery Charger
Session Timers
With session timers of 4, 6 or 10 minutes, you can match the Starry V4's heating duration to your needs. Set it and enjoy automatic heating for the length of your session.
Dosing Capsule
The Starry V4 comes with one dosing capsule made of stainless steel. You can pre-load the capsule with herbs for fast, mess-free swapping between sessions.
To use the dosing capsule:
Open the capsule and fill it with your herbs.
Insert the filled capsule into the chamber.
When finished, remove the capsule - no need to empty or clean the chamber.
The dosing capsule makes loading quick and convenient. It also helps keep the chamber clean between uses. No more scooping out leftover herbs.
Additional dosing capsules can be purchased and we sell them both as single capsules and in packs of five with a travel tube.
How to Use the XMax Starry V4
Remove the mouthpiece and load the herbs into the chamber.
Replace the mouthpiece.
Triple-click the power button to turn on the device.
Use the up/down buttons to select a temperature between 100°C and 240°C.
Let the device heat up until it vibrates, indicating it's ready. For optimal performance, wait a few more seconds after the vibration.
Inhale slowly, like you're sipping a hot beverage, from the mouthpiece. Adjust the airflow to your preference.
Exhale and enjoy!
Repeat steps 6-7, increasing the temperature if you wish, until herbs are fully extracted.
Triple-click the power button again to turn off the device when finished. If you forget, the unit will automatically turn off when the session timer expires.
Swap out the battery or recharge via USB-C as needed.
XMax Starry V4 Temperature Guide
Different temperatures will produce different effects.
170°C - 185°C
Excellent flavour, smooth vapour. The lower end of the temperature range emphasises terpenes and flavour. Vapour production is lighter but the experience is more relaxed.
190°C - 205°C
Balanced flavour and vapour production. The middle temperature range offers a bit fuller vapour with a nice flavour balance. Many find this the ideal point.
210°C - 240°C
Bigger, denser vapour clouds. The higher settings produce thick, dense clouds that vapour enthusiasts will love. However, flavour is compromised at the expense of volume.
Warranty
XMax has a reputation for good customer service and warranties. You can trust their products are well-made and stand behind them.
All XMax Starry V4 vaporizers sold by MagicVaporizers, an authorised distributor of XMax, are completely authentic and backed by a 1-year warranty on the device and a 6-month warranty on the battery.
Kasutusjuhend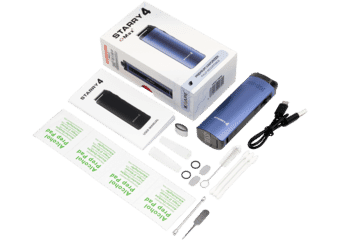 Karbis
XMax Starry V4 vaporizer
18650 battery (2550 mAh)
USB-C charging cable
Dosing capsule
Brush
Packing tool
Cleaning tool
Chamber screens (2)
Mouthpiece o-rings (2)
Mouthpiece caps (2)
Cotton swabs (3)
Alcohol pads (4)
Instruction manual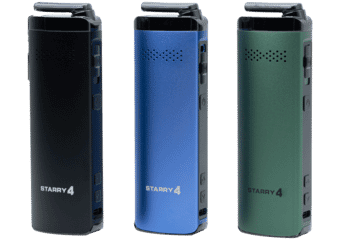 Spetsifikatsioon
Lisainfo

| | |
| --- | --- |
| Suurus: | 3.8 × 2.4 × 11.6 cm |
| Kaal: | 137 g |
| Küttekeha: | Conduction |
| Kütteaeg: | 35 seconds |
| Jõuallikas: | Battery (2550 mAh) |
| Temperatuur: | 100°C to 240°C |
| Tootja: | XMax / XVape |
| Garantii: | 1 year |
| Päritolumaa: | China |
XMax V3 Pro

Soojenemiseks 15 sekundit
Puhas konvektsioon kuumutamine
100°C kuni 220°C temperatuuri vahemik

XVape Fog Pro

Kuumeneb 180°C kõigest 15 sekundiga
Puhtalt konvektsioon kuumutamine
Vahetatav 3200 mAh aku
Kirjuta enda tagasiside XMax Starry V4