Get it first
Enter your email above to receive a notification when the Venty is in stock.
All subscribers will be rewarded with an exclusive discount code for the Venty when it's available.
Features
Fast heat-up time (20 seconds)
Improved heater with hybrid heating technology
Precise temperature control (40°C to 210°C)
Adjustable airflow
Efficient cooling unit with an extended vapour path
Bluetooth and Web App connectivity
USB-C fast charging (80% charge in about 40 minutes*)
UL-certified for safety and quality assurance
2-year warranty extendable to 3 years with registration
* Requires Storz & Bickel - USB-C "SuperCharger".
Who is the Venty vaporizer for?
The Venty vaporizer from Storz & Bickel is a top example of innovative German engineering, blending great design with easy use. It's the perfect option for those who want simplicity, safety, and the best performance in their vaping.
Buying the Venty vaporizer means investing in quality, reflected in its higher price point. Though a bit bulkier than the average portable vaporizer, it's a trade-off for the unparalleled vaping experience it offers.
So, if you're looking for a durable, high-performing vaporizer and don't mind spending a bit more, the Venty could be just what you're after. It's perfect for those who want a reliable product that delivers excellent results, even if it's a little bigger.
Rapid heating with advanced technology
Experience the future of vaping in just 20 seconds with Venty's revolutionary heater. No more waiting around; Venty's state-of-the-art hybrid system, which utilises both convection and conduction, ensures your material is heated quickly and efficiently. This rapid performance is all thanks to the powerful 130W oven, a significant leap from the Mighty+'s 45W.
The Venty's ceramic-coated chamber brings durability to the next level, designed to withstand the rigours of regular use. Imagine the ease you find with a non-stick pan, now in your vape chamber. A simple wipe with an alcohol-soaked cotton swab, or a quick brush, keeps the chamber spotless, ensuring every session is as fresh and flavourful as the first.
Consistent draws with precise heat control
One of Venty's standout features is its consistent temperature during use. While other vaporizers may experience temperature fluctuations in the oven during inhalation, Venty maintains uniform heat thanks to its advanced software-enabled modulation. This technology intuitively adjusts in real-time, ensuring the heat remains steady, regardless of how long or strong you draw.
The result? A predictable, reliable experience with every use. No surprises, just the pure enjoyment of your herbs at the exact temperature you prefer, from start to finish. It's the kind of subtle refinement that elevates your vaping sessions, making Venty a practical choice for those who value consistency and control.
Tailored vaping with adjustable airflow
The Venty vaporizer puts you in control of your vaping experience with its adjustable airflow. With a simple twist of the dial, you can modify the airflow and customise your vape sessions. Whether you're in the mood for a lighter vapour or seeking those thick clouds, the choice is in your hands.
It's not just about the strength of your draw though. The airflow adjustment impacts the heating, allowing for more nuanced control over convection heating. By increasing the velocity of the airflow, you're effectively enhancing the convection heat, meaning you can experiment to find that perfect mix between flavour intensity and vapour thickness.
Improved cooling unit
Inhale the vapour comfortably with Venty's improved cooling unit. This upgrade is not just a minor tweak; it's a reimagining of vapour cooling.
Firstly, the cooling unit boasts an additional screen, contributing to maximum filtration — no more unwanted debris, just pure, flavourful vapour. Secondly, the Venty introduces an extended vapour path. This clever design lengthens the journey of the vapour before it reaches you, giving it extra time to cool down.
The result is a noticeable difference in the quality of your experience. Each inhalation is cooler, cleaner, and kinder on your throat, making your sessions not just enjoyable but truly comfortable.
Precise temperature control
Venty puts you in control, allowing for easy adjustment of the vaping temperature to suit your personal preference. This device offers a wide temperature range, from 40°C to 210°C, allowing you to dial in your exact preference for every session.
By double-clicking the power button, you can instantly increase the temperature. The first double-click activates the Booster, raising the temperature by a default of 15°C. A second double-click engages the Superbooster, elevating the temperature even further by another 15°C. It's a seamless way to quickly increase the temperature by set intervals without looking at the display.
Want to customise the boost increments? Venty's Web App has you covered. While the default temperature boosts are set at 15°C, you can tailor them to your liking via the app. Rest assured, safety comes first — no matter your settings, Venty will never exceed 210°C.
Clear LED display and haptic feedback
Venty ensures you're always updated with its clear, easy-to-read LED screen, displaying crucial information such as the set temperature, battery level, and whether Bluetooth is enabled or not.
What makes the Venty even more user-friendly is its subtle feedback system. Not only does the screen's colour shift from orange to green when it's ready for use, but it also vibrates shortly, making it unnecessary to keep a constant eye on the display. Whether you're engaged in other activities or have the device in your pocket, you'll know immediately when it's time to vape.
Power-packed sessions
The Venty vaporizer is designed with portability and lasting enjoyment in mind. With its two built-in 18650 Lithium-Ion batteries, you can use it for up to 10 sessions before it's time to recharge.
When it's time to power up, Venty offers multiple options. For those in a hurry, the SuperCharger (sold separately) gets you to 80% battery in just 40 minutes. If you prefer an eco-friendly approach, there are settings to slow down the charging or cap it at around 90% charge, helping your batteries last even longer.
Venty uses a USB-C port, so you can easily charge it with standard cables. Even though it doesn't have pass-through charging, if Venty is plugged in, you can still use it. When you're done with your vape session the charging will resume.
Easy customisation with Bluetooth and Web App
Unlock a new level of customisation with your Venty vaporizer through its dedicated Web App. By simply visiting app.storz-bickel.com, you can connect your device via Bluetooth and gain access to a range of settings not directly available on the vaporizer itself.
In the app, you gain control over various aspects of your vaping experience. Easily modify the Venty's settings, such as dimming the brightness of the display, disabling vibration for quieter alerts, adjusting the booster temperatures, or activating eco-charging to extend the battery life.
Additionally, the app provides insightful device-related information, including operating hours and software versions, keeping you in tune with your Venty's performance and maintenance needs.
How to use the Venty vaporizer
Here are the basic steps to get started with the Venty.
Preparation: Ensure your Venty is charged and ready. Finely grind your dry herbs for a consistent vaping experience.
Filling the Chamber: Unscrew the cooling unit from the Venty and fill the chamber with your material. Don't overpack—allow space for hot air to circulate for even heating.
Start the Venty: Screw the cooling unit back on and power the Venty up by holding the power button. The LED indicators will turn green and the unit will vibrate when it reaches the set temperature.
Customising Your Session: Adjust the airflow and temperature to your preference using the up and down buttons, or the power button for boost modes.
Enjoy the Vapour: Inhale slowly and steadily. The advanced cooling system ensures each draw is smooth and flavourful, enhancing the natural nuances of your dry herbs.
Session End: After your session, turn off the Venty by holding the power button. Empty the used herbs from the chamber, and give it a quick clean to maintain optimal performance.
In case you forget to turn it off, the Venty vaporizer automatically shuts down after two minutes of inactivity, saving battery life for future sessions.
Assured durability with quality materials
The Venty vaporizer puts safety and quality first. Made with carefully sourced and well-tested materials, this vape is more than just durable; it's also very safe. Storz & Bickel made sure of this by getting it UL-certified, meaning it meets strict global safety standards.
But that's not all. The Venty is also built to handle everyday accidents. It's splash-proof according to IPX4 standards, so a few water splashes are no problem. This feature makes the Venty perfect for both relaxing at home and taking on outdoor adventures. It's a sturdy vape you can rely on, wherever you go.
Easy cleaning for smooth performance
Keeping your Venty vaporizer in perfect shape is simple and doesn't take much time. After each use, once the chamber cools down, it's good practice to give it a quick brush out. This helps prevent build-up and keeps it ready for your next session.
For a deeper clean, the mouthpiece, cooling unit, and oven should be your focus. The manual recommends doing this every twelve sessions to ensure everything works like new.
To deep clean, just soak the mouthpiece and cooling unit in isopropyl alcohol and wipe the oven with an alcohol-soaked swab. This routine doesn't just maintain your vape's performance; it also ensures you get the purest flavours every time.
Venty vs Mighty+ and Crafty+
The Venty, Mighty+, and Crafty+ each serve unique customer needs, yet the Venty stands out in several ways. While the Mighty+ offers unmatched battery life and the Crafty+ is known for its compact size, the Venty takes personalisation and quick heating to the next level.
It is the first of its kind to offer such a rapid heat-up time and massive airflow, combined with extensive customisation through its dedicated Web App, setting a new standard for portable vaporizers.
Recommended accessories
Tailor your Venty experience further with these useful accessories.
SuperCharger: Get your vape ready faster with the SuperCharger.
Venty Case: Keep your Venty safe wherever you go with the matching case.
Dosing Capsules: Use Dosing Capsules to prepare sessions and cut down on cleaning.
Wear & Tear Set: This set has all you need to keep your Venty working like new.
Water Pipe Adapter: Connect your Venty to any water tool with this adapter.
Warranty
All Venty vaporizers sold by MagicVaporizers, an authorised distributor of Storz & Bickel products, are authentic and backed by a 2-year warranty + 1 extra year after registration, restricted to normal use.
Kasutusjuhend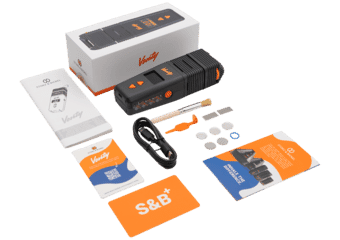 Karbis
Venty vaporizer
USB-C cable
Normal screens (small) (2)
Coarse screens (small) (3)
Cooling unit screens (2)
Seal rings (2)
Filling chamber tool
Cleaning brush
Instruction manual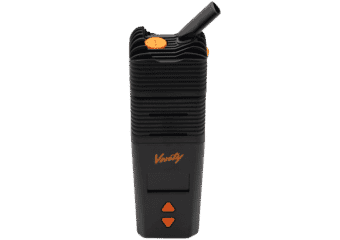 Spetsifikatsioon
Lisainfo

| | |
| --- | --- |
| Suurus: | 5.5 × 3.7 × 15.7 cm |
| Kaal: | 252 g |
| Küttekeha: | Hybrid (Convection+Conduction) |
| Kütteaeg: | 20 seconds |
| Jõuallikas: | Batteries |
| Temperatuur: | 40°C to 210°C |
| Tootja: | Storz & Bickel |
| Garantii: | 3 years |
| Päritolumaa: | Germany |
Kirjuta enda tagasiside Venty Vaporizer